Harmony Acres is a small family/friend run business and our great respect for Nature provides you with a beautiful hideaway in the heart of the forests. This is a space for the solo camper, for quiet families, couples and small groups. You can immerse yourself in nature by hiking and bicycling (not road bikes) on our woodland trails; sitting by your campfire or star gazing on clear summer nights. Awaken to a morning choir of birds and end your day with a late evening chorus of frogs, trill of toads or listen to the rare call of the whippoorwill.
Our campground is the perfect place for a peaceful quiet getaway; for those who want to be in a natural setting near the tip of the Bruce Peninsula and central to both the Bruce Peninsula National Park and Fathom Five National Marine Park, beaches of Lake Huron and Georgian Bay, yet away from the crowds.
---
OUR CAMPSITES
Our sites are spacious and well treed; sites are either surrounded by or under a canopy of a variety of different tree species. The selection of sites to choose from include hardwood forest sites where large oaks and maples provide high cover shade however are less private visually; to the soft woods that give you some sun and shade designed for small families or groups 4 – 6 people. Our evergreen sites are smaller and visually secluded from one another with a few offering a view of the stars.  These are created for individuals /couples – 1 to 2 small tents.  We offer both premium and standard sites.  There are electrical sites for tenters and for camper trucks with 15 amp service and 3 larger sites for trailers and small RV's with 30 amp service and water on site.
---
OUR CAMPING CABINS
The cabins are nostalgic and rustic in designed with Cedar log rafters and pine board & batten walls, offering the feeling of being more like wooden tents. The cabins are excellent for both rain and sunshine and free you from the hassles of packing tents and air mattresses. Inside are 2 to 4 beds (bunk style) with mattresses – some with single bunks and some with double beds combinations; therefore personal linens are still required. There is No electricity or water in the cabins, so please bring your own lanterns and flashlights as well as containers to carry water from different outlets.   It is a short distance to walk to the potable water taps, shower-house and washroom facilities. All cooking is outside either over a campfire (grates provided) or your personal propane camp stove.
---
AMENITIES
Safe potable water – please bring alternative refillable water bottles to plastic throw away ones!
Two Full functioning shower houses – one with 4 showers, toilets & sinks (summer) and one with 3 showers, flush toilets & sinks.(summer/winter)  In the main washrooms all toilets also have hand held bidet sprayers.  There are toilets throughout the campground.

Dishwashing stations – the station near the main shower area has both hot and cold water; while the one in the campground has only cold water.  If you decide to wash dishes on your site, please toss the waste water in the nearby toilets. It is important to keep food wastes off your site as it can lead to skunks stopping by or ants and hornets setting up nests in the vicinity.
Recycling & garbage depot:  Adjacent to the firewood/firepit grates area, are large blue barrels to put your trash in.  There are separate containers for alcohol, wine, beer bottles, as well as other recyclables. On busy weekends we go around once late evening to also pick up any trash that you may have at your sites.
Each Standard and Premium site has it's own fire pit, picnic table and parking for one vehicle
Each Group site has 2 picnic tables, fire pit, and room for three vehicles.
Parking area, nearby, is free for additional vehicles
Area is provided to drop off your boats and or trailers
Fire wood: we sell wood on site complete with starters kits & instructions
Ice, bug repellent is also available
MAPS of the area: we provide Parks Canada maps with all their trail systems. Please note that the local Municipality and Chamber of Commerce maps are incorrect on the private- public land boundaries!!
Wi Fi Lounge /Rainy Day Board games area
Library of Wildlife Identification books
---
OUR ENVIRONMENTAL COMMITMENT

We are proud to say that we are an ecologically friendly campground and use only products that are healthy for humans, animals and the environment. We ask that you do not spray your campsites with toxic pesticides to kill the insects that live here naturally.  (See Rules, Regulations & Fines)  There are natural ways to discourage these 'pesty' rascals.
On site we have worked with Universities and their student in areas of research such as white nose in bats, wild bee populations, leopard frogs, monarch butterfly lifecycle and migration, and have an ongoing salamander monitoring plot.
Plastic Water Bottles: Please bring appropriate water bottles/ containers that can be filled on site. Our drinking water meets the requirements of the Ontario Public Health Board. It is very high in several minerals and has a PH of 7.2 on average. The list of minerals and metals is posted at the office and at the shower houses.
Showers are now metered for better use of water and we heat with on-demand boilers and use Kholer Katalyst showerheads to ensure a nice warm shower.
We continuously work at reducing our human footprint when it comes to garbage.  We ask that you eliminate styrofoam and plastic packaging as much as possible from your camping gear and supplies.  Please do not burn anything other than wood in your fire pits.
---
FOREST MANAGEMENT
Harmony Acres is a 100 acre parcel of land where only 25 acres has been developed. It is one of the last and largest stands of hardwoods, especially oaks (look around your campsites) including beech and maple trees, near the tip of the Bruce Peninsula. Our forest connects to another 3500 acres of private land and joins into the National Park land system. Due to many foreign species of beetles and blights destroying Ontario forests, we ask that you DO NOT bring any wood from areas outside of the tip of the Bruce Peninsula.  Firewood is available for purchase.   This year we too now experience the devastation of our giant Ash trees due to the Emerald Ash Borer.  In Michigan they have seen large populations of woodpeckers aid in the slowing of the process and we have noticed as well that our populations has increased dramatically.
We ask that you DO NOT bring hatchets and axes if your enjoyment comes from hacking at trees, carving in your name or shaving off the bark.
In 2015 with the assistance of Grey Sauble Conservation Authorities and Ministry of Natural Resources, we designated 75 acres into a forest management plan. Also that year in the heart of the hardwood forest we have called this area the ADYTUM of HARMONY. Adytum which  means '(in ancient worship) a sacred place that the public was forbidden to enter; an inner shrine.' or in our case where there exists only trails and Nature is left alone.  We have many species of rare and endangered birds breeding here as well as plants.  Then in late 2016/2017 within the remaining 25 acres which includes the campground we set up a 'Wild Arboretum' for your camping bedroom to include a cool educational experience – where technology aids in understanding Nature.  2017/2018 is our year for landscaping with flowers and wildflowers specifically for bats, bees, birds and butterflies.
---
OUR WILD KINGDOM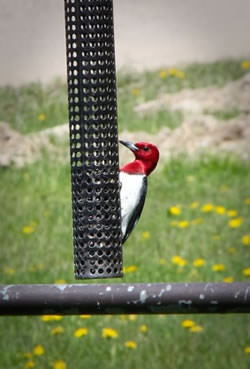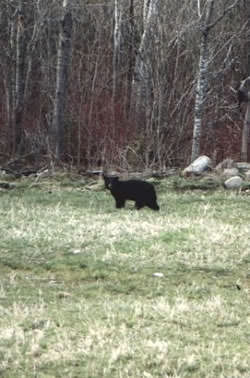 The upper Bruce peninsula is home to many species of wildlife –such as bears, coyotes, foxes, weasels, fishers, skunks, raccoons, porcupines including several amphibians and reptiles. The large avian population flourishes on the upper peninsula during spring, summer and autumn as the peninsula is also a flyway for several species in migration.   Some of the smaller birds that you will see in the trees and fields around Harmony are on the 'Species at Risk' List. This List indicates if they are either endangered, threatened, of special concern or extirpated – both for plant and animal.  On the property you will see mud nests of barn swallows. Please do not disturb.  Bird feeders are maintained year round.  If you are quiet you will see a redheaded woodpecker visiting and in late August all the young are there.  There is a large breeding population of hummingbirds on the property.  On site we have breeding population of both species of Brown Bats.
The spring brings the choruses of frogs and toads, summer time there are the bull frogs and whippoorwills calling along with several morning birds. – especially the Phoebe whose call is non stop 'phoebe'. Late summer there is the crazy call between the coyote adults teaching their young to hunt along with sounds of crickets.
In the area drive wisely especially at night due to wild life on the highways;
while on the side roads going to the different beaches please BRAKE for Snakes and Turtles.
When camping please recognize that you are sharing space with all these species and they are dependent on a symbiotic relationship.
You are but a guest and your acknowledgment of your place where ever you visit on the Bruce Peninsula is their survival.
We have a Bear policy in place.
Do not be the one responsible for this animal's death sentence, respect our rules about food and trash on your site.

Public Enemy # 1 …. NOT!

Massasauga Rattlesnake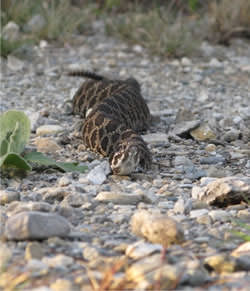 This is the only poisonous reptile in Ontario and one of its last domains is the Bruce Peninsula.  The last recorded death from a  Massasauga bite in Ontario is more than 50 years, and only two deaths resulting from a Massasauga bite have ever been reported in the province.  (www.Ontario.ca/page/massasauga-rattlesnake)
When hiking in the area and on trails wear proper footwear and loose fitting pants.  Do not reach into regions that you cannot see.  This snake is very shy and prefers to retreat and hide rather than bite.  They give warning of their presence which creates a buzzing sound as their tall rattles against forest material.
Do not pick up any snakes, or kill any snakes.  They are the indicator species of the health of our ecosystems.
Due to the many people in our campground over the summer season this snakes prefers the dense forest and marshlands not your campsite!
Mosquitos Control  – Brown Bats swoop around at dusk feeding on mosquitos and moths.  You will see many around the showerhouse. We ask that you do not spray pesticides around your campsites.  This will jeopardize the bats  immune systems for fighting off diseases such as white nose. They live behind the barn doors during the daytime hours, and in the hollows of trees on the edges of the paddocks.