Activities At the Campground
Trail systems – 15 min, 20 min and 30 min walking trails through the Forest (Adytum)
Bird Watching  & Wildflower Photography; Night sky photography
Volley ball area /Frisbee area/ Horse shoe pits, Badminton
Star gazing area
Interpretative Guide can be pre-arrange for your own private tour of local geology, natural
& historical landscapes off the beaten track!
---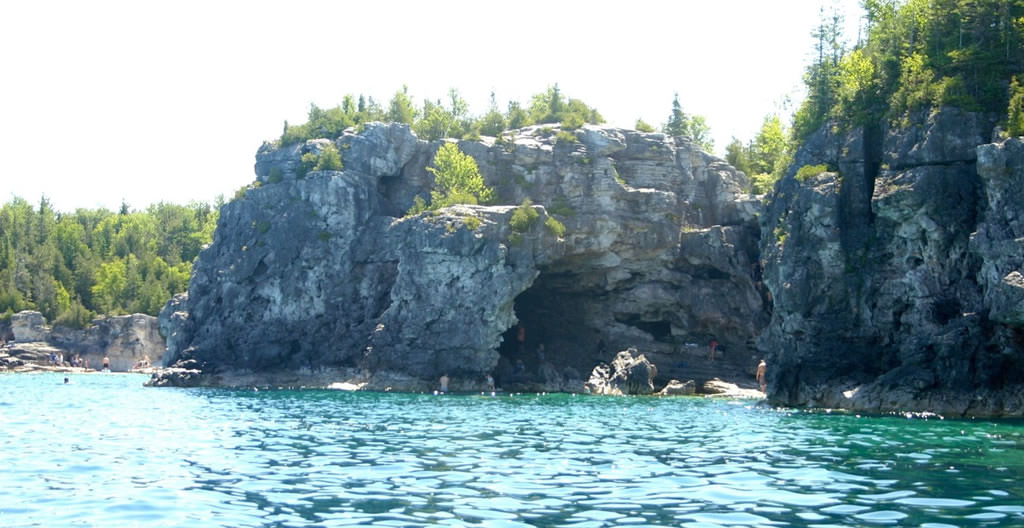 We are approximately 5 to 15 minute drive from the following
Bruce Peninsula National Park, Cyprus Lake ('the Grotto') –
we are the next campground north; only 4 km from the Park entrance.
Sand Beaches: Dorcas Bay/Singing Sands is 2km south on Lake Huron,
4km north Dunks Bay – small public access only on Georgian Bay
Fishing: inland lake boat rentals on Cedar Grove on Cameron Lake
– pickerel, bass, perch 2 km south of our entrance
Ecology Trails: Dorcas Bay/ Singing Sands, Parks Canada Visitor Center
Dyers Bay  – Devils monument
Lighthouses: Tobermory – Big Tub Light, Cabot Head Lighthouse at Dyers Bay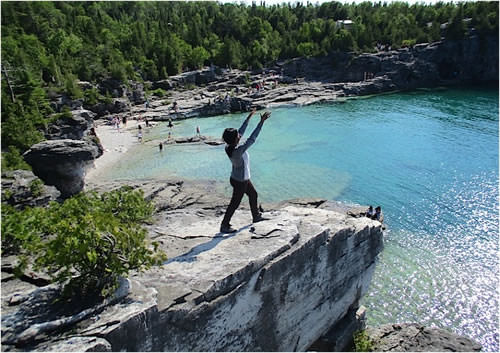 Taoism in relationship to Nature
"We cannot approach nature as a thing to be mastered but as a partner in a relationship. The goal is to become natural part of the original order. The way to discover that original order is to turn to nature."
---
Tobermory Town Centre
(6km north on Hwy 6 from the campground)
Art galleries, souvenir shops, restaurants, cafes and bars
Much More Camping  – for supplies & equipment
Ransbury Pro Hardware
Food Land Grocery Store
Liquor/ wine/ beer Store
Post Office
Ferry boats to Flowerpot Island and shoreline tours are located in the harbor
** bus pick up & return can be pre-arranged from the campground to the boats in the harbor
Bruce Anchor Cruises/ Blue Heron Cruises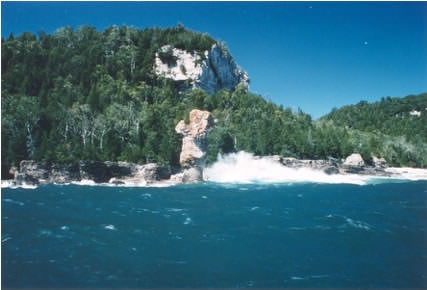 ---

CANOEING – KAYAKING – PADDLEBOARD

Bring your own and enjoy a water side view of towering cliffs, paddling into shoreline caves, glide over the clear water and listen to the sounds of just your paddle  as it dips into the water.
AREA RENTALS
Canoeing/kayaking rentals available in the harbor at Thorncrest Outfitters
Kayak/ Paddle board rentals over shipwrecks at Big Tub Harbour Resort
Canoe rentals on Cameron Lake to Cyprus Lake at Cedar Grove Cottages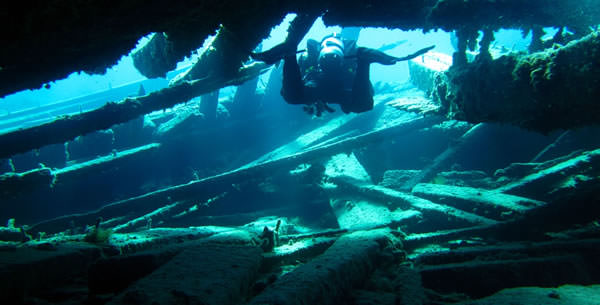 SCUBA DIVING – SNORKELLING – FREE DIVE

Since the 1800's, sailing ships and steamers have ventured across the great waters of Georgian Bay, and for many their finally resting place was on the bottom of the bay.  The clear cold waters offer an underwater museum for those who like to venture here.
DIVE COMPANIES IN TOBERMORY
Divers Den (complimentary photo adjacent)
G&S Watersports
Lessons, Certifications, Diving Trips, Equipment rentals
CHECK OUT YOU TUBE  ALSO FOR  ICE DIVING  – TOBERMORY, FREE DIVING TOBERMORY
---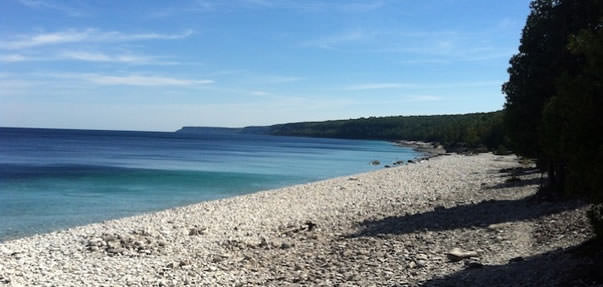 COBBLE STONE BEACHES OF GEORGIAN BAY
The white smooth stone beaches are millions of years old. At first glance most people see white sand. They dot the entire shoreline as it weaves along Georgian Bay. If you look close you will find fossils.
Half Way Log Beach, Little Cove Beach, Indian Head Cove
Best time of the year for swimming is mid July, August & first week September. Though it is Caribbean in appearance, it is refreshing like the North Atlantic.  The Lake Huron Beaches are sandy and shallow.  During mid July and August the water is bathtub warm.
Dorcas Bay/Singing Sand Beach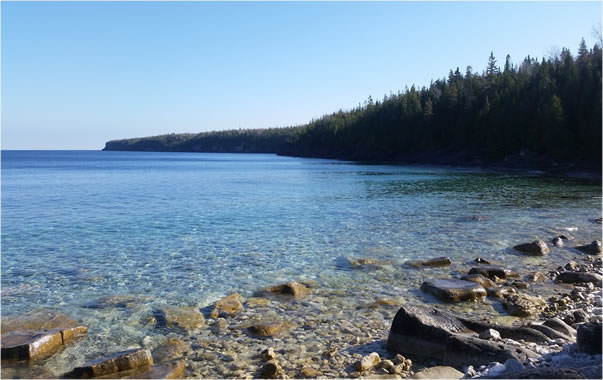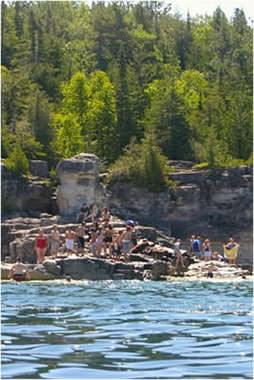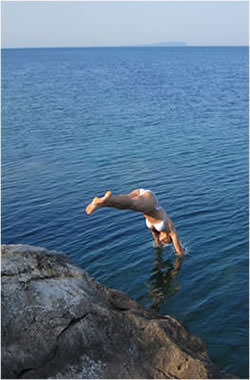 ---

HIKING ON BRUCE TRAIL
Forest trails & cliff top perches, this trails starts in Tobermory and traverses through the National Park as it follows the Niagara Escarpment for 850 km.

ROCK RAMBLING
Mother Nature has provided a Gym for the young and younger at heart to play and explore your day away.  Be kind and not damage the moss, lichen and rare plants that call this rugged shoreline home.  Remember you are touching an ancient coral reef so have fun exploring what was once an inland sea.

---
SUNRISE – SUNSET
Georgian Bay faces the east hosting some of the most spectacular sunrises.  Halfway Log, Cliffs at Indian Head Cove or Dyers Bay allows for that 'end of the world' feeling as a new day comes alive.  Lake Huron on the opposite side of the peninsula facing west features the giant orange orb as the day comes to a close.  Sunset Park on Cape Hurd Road, Lighthouse on Big Tub Road and the Gap at the end of Hwy 6, allows for that stillness as many stand in salute to day.