CAMP SITE POLICY
Sites are based on 2 person occupancy – rate per night
All sites are different in their shape & size due to the layout around the trees. Our camp map offers the tenting pad area(maximum) for each individual site.  Please confirm that your tent(s) fit in the pad on the site you are booking. We do not switch sites upon arrival to accommodate your changes.

We are not a traditional RV/Trailer park – we are an arboretum (nature base) campground with the basic outlets for electricity and there is access to fill with water.  Our EW sites will fit trailers/campers/RV's up to 28 feet. There are however, no sewage hookups! Full shower house/bathrooms are nearby.

There must be one person on the site that is 19 years or older.

There are designated sites that are for Hammocks & Motorcycles
---
TENTING SITES RATES AND CABIN RATES
Price Per night

Holiday Weekend Price Per night

TYPE

Description

Base

BABIES
(ages 0-3 years)
EXTRA CHILDREN
(ages 4-16 year)
EXTRA ADULTS
(17 onwards)

2 Nights Stay

3 Night Stays

Standard
(Sites 25-38)

These sites are in the cedars/conifer forest and fit small tents & designed for 2 people or couples.

35.00
(max 2 people)

$0.00

N/A

N/A

$45.00

$40.00

Premium
(Sites 1,3,5,7-24)

These sites are in the softwood and hardwood forests & may fit more than one tents  allowing  space for dining tents over picnic table. Holds 2-5 people site dependent

40.00
(includes 2 people)

$0.00

$5.00

$15.00

$55.00

$45.00

15 amp Tent Site  (Sites 39E,40E)

These sites are in mixed forest and tucked away.  They will hold from 2 -4 people per site.

45.00
(includes 2 people)

$0.00

$5.00

$15.00

Same rate, three night minimum

15amp Small Trailer and Tenting Sites
(Sites 2E,4E,6E)

These sites are under the Hardwood canopy and hold 2 to 6 people per site, depending on the number of children. Family oriented sites, closer to the Showers/Toilets. These are back in sites.

45.00
(includes 2 people)

$0.00

$5.00

$15.00

Same rate, three night minimum

30amp+Water Trailer and Tenting Site
(Sites EW1-EW3)

These are  large grassy sites with gravel pad with a Forest backdrop and a Pine tree hedge between sites.  There are no sewage hookups. These are 'back in' sites. These sites are great for families and quiet couples – hold 2 -6 people.

50.00
(includes 2 people)

$0.00

$5.00

$15.00

Same rate, three night minimum

Group Site
(G1, G2, G3, G4)

These large sites are well treed and at the back of the campground. They are unserviced. They will hold 3 to 5 small tents (4 -6 ppl single room tents) depending on the site.

100.00
(includes 6 people

$0.00

$5.00

$15.00

Same rate, three night minimum

 

 

 

 

 

 

 

 

FORESTED CABINS


Cabin #1E

Electric cabin, one room, with lights and a double bed.

75.00
(2 people max)

N/A

N/A

N/A

Same rate, three night minimum

Cabin #2

Rustic cabin, one room, with 4 single beds set bunk style.

80.00
(4 people max)

N/A

N/A

N/A

Same rate, three night minimum

Cabin #3

Rustic cabin, one room, with 3 single beds and 1 double set bunk style.

90.00
(5 people max)

N/A

N/A

N/A

Same rate, three night minimum

Cabin #4

Rusic cabin, one room, with 1 single and 1 double bed set bunk style.  Max 3 people

60.00
(includes 2 people)

$0.00

$5.00

$15.00

Same rate, three night minimum

Cabin #5

Rustic cabin, one room, with 4 single beds set bunk style.

80.00
(4 people max)

N/A

N/A

N/A

Same rate, three night minimum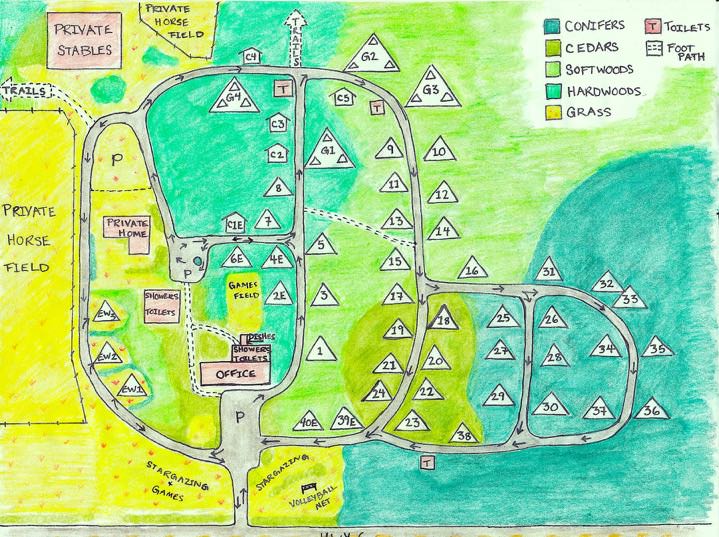 ---
ADDITIONAL VEHICLES
Each site is allowed 1 vehicle
Extra vehicle can off load gear and go to Free parking areas
Group Sites allowance 3 vehicles maximum
Cabin sites allow 1 vehicles
---
RESERVATION/BOOKINGS
Please note that 13% Harmonized Sales Tax will be added to the above rates
Deposit is the 1st night's stay paid in advance for all campsites
Cabins are paid in full upon reservation
Reservation Fee:  $8.00 per booking
CASH or interac etransfers can also be taken for payment on arrival for the balance.  Interac e-transfer are sent to hello@harmonyacres.ca  Please remember that the answer to your question is required in a separate email however credit cards will still be required to secure the site for damages.
Debit is not available and cheques not accepted for payment.
---
LATE CHECKOUTS
Check-in is from 2:00 p.m. until 10:30 p.m. unless otherwise arranged. Check Out is before 11:00 a.m. on  the day of  your departure. Please be advise that if you do not return by noon, we will dismantle your campsite and charge you  $20.00 for our time.   The alternative option is to book the site an extra night if it is available.
---
CANCELLATION /REFUNDS
Cancellation policy –  Deposits are non refundable regardless of circumstance!  NO SHOWS will be charged $20.00 in additional to their deposit amount.
Cabins are non refundable on the 1st night as well as Friday/Saturday night are non refundable. Additional nights can be refunded with 14 day prior notice to arrival date.
After arrival there are no refunds for the tenting/trailer site stays, with exceptions of departures due to family emergencies/ medical emergencies or a family death, for the nights following your date of departure. (Friday/ Saturday nights are not refundable)
All Transactions fees are non refundable.
Make sure that you read and understand the Rules, Regulations and Fines before you reserve your booking.
---
OTHER
Ice available on site
Wood/ Kindle kits   $8.00 per bag,  $5.00 per bundle,   $2.00 per kindle pak
(all wood must be purchased in this location – we are very strict about wood – Please check Rules, Regulations & Fines– there are no exceptions!!)
ITEMS TO REMEMBER
Good shoes/boots for rocky shorelines & slippery surfaces, warmer clothes for nighttime, Tent, Rope, Tarp, Sleeping bags, Matches, Bug repellent, Flashlights, Water containers
**Private Guide – prearranged – $150.00 for 3 hours (car pooling may be required)
Excellent source for local ecology, wildlife, historical, archaeological, and understanding the unique geological infrastructure known as the Niagara Escarpment; for the curious seekers of nooks & crannies away from the crowds.
** Boat Tours Pick up and drop off service by the Ferry Boat companies can be pre arranged for those taking the cruises to Flowerpot Island.
**Taxi Service for Back Country Campers on Bruce trail – pre arranged drop off – $25.00 (up to 1 hour return) + $0.50 per km – max 4 person per trip; Minimum one night Stay required; not available on Holiday weekends.