CHECK-IN/CHECK OUT
Check-in is from 2:00 p.m. until 10:30 p.m. unless otherwise arranged.  10:30 pm arrivals are not allowed campfires.
Check out by 11:00 a.m. on the day of departure.
LATE CHECK OUT:  Check out is by 11:00 a.m. on the day of departure. Please be advise that if you do not return by noon, we will dismantle your campsite and charge you $20.00 for our time.   The alternative option is to book the site an extra night if it is available.
---
RADIO FREE
We are a Radio Free property. This means no radios, cellphones or stereos allowed without use of headphones.  Tune into Nature instead.  However, you can play guitar(s), other musical instruments or partake in campfire singsongs before 11:00 p.m.
---
QUIET TIME
From 11:00 p.m. to 8:00 a.m. please speak quietly and do not disturb your neighbours.  Patrolling is conducted throughout the evening. The sound from your voice will travel louder in this area. The scientific answer as to why is due to the way the sound waves (particle bounce) are influence by the geological nature of the upper peninsula and the difference in the air pressure between Lake Huron and Georgian Bay.
Respect the comfort of other! Most of our campers are avid hikers, rock climbers and adventurers, seeking rest time to start fresh the next day! Early access to the National Park starts at 6 a.m. as gates open at 7 a.m.
Early morning prayers must be silent ones on your campsite. If you wish for group prayers, please make arrangements with management at time of booking for an alternative space outside of the campsite area.  Those with small 'active' children in the morning please insure inside voices for their outdoor bedroom.
Car Alarms must be turned off on arrival and during your stay while you are on your campsite.
The Law: Municipal ByLaw 2013-08 Noise 4.1b Loud playing of any radio, public address system, amplified sound producing device, or any other sound device which can be heard by any other person(s) within the Municipality of Northern Bruce Peninsula, between the hours of 11pm through to 8am.
FINE:   $250.00
"See how nature- trees, flowers, grass – grows in silence; see the stars, the moon and the sun, how they move in silence…we need silence to be able to touch souls." – Mother Teresa of Calcutta
---
ALCOHOL & SUBSTANCE USE
These activities are confined to your campsite only and do so responsibility. Do not throw empty bottles into the forest or fire pits.  Do not use your campsite as an ashtray.  Loud, aggressive, abusive or insulting behavior will not be tolerated.
The Law:  Municipal ByLaw 2013-08 Noise 4.1h  Shouting or loud speaking in or adjacent to any public street or place.
FINE:  $250.00
The Law: Liquor Licensed Act  Sec31(2) the penalty for possession of an open container or consumption of liquor in a public place is a fine.  However under the Criminal Code of Canada it states any individual who interrupts the peace by causing an alcohol-fueled disturbance is committing an offence. A disturbance in public such as shouting, fighting and public urination is also a crime.
---
CAMP FIRES
You are permitted to have a fire within designated hours from 7am to 11pm – allowing fires to die down after this, out by midnight. Once you go to sleep or leave your site, you must put out your fire. You are in the heart of a wooded area; fires must be kept low. If you do not, we will put them out for you.   No Bonfires. Do not move your fire pit at any time as they have been placed in the best position in your site to have a safe campfire.  Please do not put Hibachis/small BBQ's on the wooden picnic tables! Deposit your charcoal into the firepit, not onto the forest floor or on the ground of the campsite.
FINE:  $ 50.00   Firepit movement & clean up BBQ Charcoal
FINE:  $120.00  Burning of or damage to Picnic Tables
---
FIRE BANS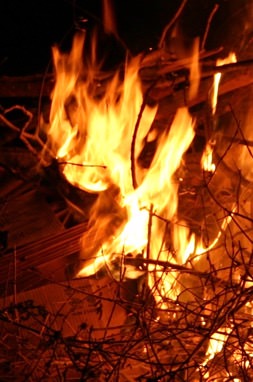 Every year – mid –summer – the Municipality or the Province of Ontario, may issue a partial fire ban allowing cooking fires only or a full fire ban due to extreme dryness and lack of rainfall.  For your safety and the safety of the ecology around you, we must enforce this order when our area falls under a Restricted Fire Zone.  Campgrounds are last to be called due to the controlled space. We will call you in advance of your reservation so that you can bring alternative cooking equipment.
The Law:  Municipal Bylaw 2014-25f  – "Municipal Fire Ban" means absolutely no Open Air burning including camp fires or cooking fires, charcoal barbeques, and the discharge of all fireworks but does not include the use of propane or naphtha gas cooking equipment equipped with a shut off mechanism. A fire ban will be ordered, when fire hazard conditions reach "EXTREME" per Natural Preparedness System Level IV = Extreme Hazard.



FINE: $155.00 Municipality
FINE:  $1000.00 Provincial, 3 months in jail, + financially responsible for any costs incurred fighting a fire
---
WOOD
At our campground we sell firewood in various size quantities, including kindling. (If you have trouble making a fire we will show you.)  We no longer allow our campers to bring in wood, lumber pieces or other substances that will burn in your campfire.  You may purchase fire starters & kindling kits made from kiln dry wood only that are prepackaged and found in large chain stores like Canadian Tire.
We do not tolerate scavenging of the forest or wild flora – anyone caught taking wood from the forest, bark off of trees will be asked to leave immediately!! Trees grow from the outside and the bark is their skin.  The composting wood on the ground or trees freshly cut do not burn.  Zero tolerance to the removal of small branches from the trees surrounding your site.
The Law -Plant Protection Act:

Attention: Be aware of movement restrictions Moving firewood from places where regulated pests have been found can be a violation of the Plant Protection Act, with penalties of up to $50,000 and/or prosecution. Be aware of movement restrictions that may be in place before you move wood or wood products. – Canadian Food Inspection Agency

OUR FINES:
$150 Burning  of pallets, construction lumber or other off property fire wood
$200 Ecological Damage 1:  Destruction of forest property such as removal from the forest floor: rotten logs, branches, etc
$300 Ecological Damage 2: Trees stripped of their bark, branches, limbs and leaves (such as Birch)
$1000 Ecological Damage 3:  Trees and forest destruction that results in the end of life such as cutting down, uprooting, girdling of trees, damage to escarpment rock, ecological pollution as in gasoline, etc.
Our Campsites and surrounding areas are 'Photographed and Documented'!
"Trees are treated with great respect because it is the most important type of plant life and, like all living things, has an atman (soul). 'If there is but one tree of flowers and fruit within a village, that place is worthy of your respect." – Mahabharata
---
WATER
Good drinking water is available on site so please bring re-usable containers and vessels.  The water on site is tested annually for composition of PH(7.2), metals and minerals, and twice for Ecoli and coliform. The potable water is UV filter.  All water on the property goes through an iron filtration for the high mineral content.  We do not use chlorine or fluoride.
---
TOILETS AND SHOWER HOUSES
Please have respect for others and keep these areas clean. If a product is required please come to management to assist in your needs. If repair or maintenance is required please let us know.  Showers are metered – tokens are available in the office. Bidet sprayers are beside the toilets.
Note: the Municipality of Northern Bruce Peninsula is striving to create this region 'plastic water bottle free'. We ask that you help us achieve their goal.
---
URINATION & DEFECATION
Canada and its communities have laws governing this aspect of human behavior.  Toilets are placed throughout the campground as well as there are two bathrooms each with showers and toilets/urinal.
The Law:  The Public Urination and Defecation Act states "No person shall defecate or urinate in or on roads, campsites, parks, parking lots, in the forest or other places open to the public unless formally designated as a sanitary facility capable of and commonly used for the disposal of human urine or excrement."(4.1)   Fines range from $300 to $10,000.
We provided facilities. Use them. We will exercise our Right to prosecute.
OUR FINE:  $75.00 Human Biological Hazard – Clean up of feces or vomit on the site.
---
DISHWASHING STATIONS
Dish washing is provided by the Showerhouse buildings with hot and cold water.  If you wash dishes at your site do not dispose of the water nearby as it will bring in rodents and insects like hornets and ants. Dump your dishwater in a nearby toilet.  For food waste that is tossed into the forest surrounding your site, it will result in a Fine.
FINE:  $25.00
---
FIREARMS
This is not the wild frontier and hunting is not permitted on this property.  We do not allow firearms of any kind to be brought or discharged on our campground. Police will be called and All violators will be asked to leave immediately.  Other instruments that can be classified as weapons such as Machetes and large Knives are not allowed.  Those who damage trees by axe and carved names with knives will also be subject to the maximum Ecological Fines and Eviction.
FINE :  EVICTION
---
FIREWORKS
Do not set off fireworks for the risk of fire in the surrounding forest as well as the noise causes trauma to the horses in the nearby fields, dogs onsite, campers especially those with small children and individuals with PTSD.
The Law –  Municipal Bylaw to regulate the discharge of fireworks 2014-25 e (i, ii, iii)
Fireworks class 7.2.1 under the Explosives Act and Firecrackers including caps used in cap pistols when deems that it poses a threat to human life or property is guilty of an offence and liable to a fine under the Provincial Offences Act R.S.O. 1990 Chapter P.33.
OUR FINE: $500.00
Municipal Fine:  Starts at $155.00 + + +
---
GARBAGE/TRASH
We asked that you plan your camping experience wisely in regards to what you bring.  Each site is allowed one small bag of garbage daily. Group sites 1 large bag. Please keep your site clean and do not throw any trash or left over food into the surrounding forest. Please bring your garbage to the designated area along with recycling.  A container is also supplied for beer, wine & alcohol bottles for the local Scouts group. Do not use your site as an ashtray. We do have garbage bags if required.
DO NOT BURN YOUR TRASH.  While the burning of trash may create a 'rainbow wonder' in your fire pit however breathing in these fumes may not give you the 'high' that you expected.  The burning of plastics in particular is prohibited and contravenes sections of many federal statutes from Species at Risk Act, the Environmental Protection Act, the Criminal Code of Canada, as well govern by Workplace Hazardous Materials Standards. Trash of today is no longer the same as in the past.  Even your cigarette butts are full of plastic.  The toxic chemicals released into the air are lethal form of dioxins.  Exposures cause skin rashes, cancers, liver damage, hormonal and  cardiovascular deterioration.  For more information  Guidance Document for Jurisdiction on Open Air Burning, Canadian Council of Ministers of the Environment.
FINE: $ 25.00/bag + Hourly rate – if you leave garbage all over your site
FINE: $ 50.00 to clean up cigarette butts
FINE: $100.00 if site is completely abused
FINE: $150.00 Burning of Plastics (bottles, Styrofoam, plastic bags, etc)
"The world is humanity's gift and legacy from Allah. Allah placed his creation in the hands of humanity, in trust and according to the Laws of Islam, to be protected and maintained. The Qur'an reminds humanity that animals and plants also have their purpose in life and fulfill roles assigned to them by Allah."  Quote: Islam, Muslims & The Natural World Nehal El –Hadi – 2006
---
PETS
Pets are welcome as long as they are friendly and quiet. Remember that not all people like dogs. They must be kept on a leash and attended to at all times. You must clean up after them. Limited to 2 dogs per site.  Do not leave your pets in a vehicle while you are away hiking.  We will help you make other arrangements.  We reserve the right to call the By Law Enforcement Officer if dogs are found chasing horses and other animals on this property.
The Law:  Provincial Offences Act R.S.O. 1990 ChapterP33:  Municipal Bylaw  2000-35 – 2. – 3 ,  All dog owners shall have their dog(s) on a leash (no longer than 5 feet) to control said dogs while on designated park land and lands under control of the Municipality.
FINE:  $125.00
---
WILDLIFE
All food must be removed from picnic tables and put into your vehicles during the night. Failure to do so, may cause larger wild life to come dining at your site. This is bear territory along with raccoons and skunks. If we find food left unattended, staff will remove it from the site.  Make sure that all Garbage is either deposited at the designated site before bed or stored in the trunk of your vehicle.
Bug repellent may be required at certain times of the day/ night to wipe on your person, burn in candle or incense. We ask that you do not use commercial insect spays such as Raid or Konk around your site.  This is toxic to insects that are food for birds and bats.
Many species of plants and animals in the entire area are either on the threaten or endangered species list.  At Harmony Acres, we take their survival seriously.  Note:  though we seldom see Rattle snakes here, please do not pick up or kill any snakes that you come across. If you have a concern please do not touch any animal or plant and address this concern to staff or management.
---
TRAILS SYSTEMS
Proper foot wear is required on all trail systems for your protection. Do not wear flip-flops when hiking.  Though the Rattlesnake is elusive, encounters do happen if you venture off the beaten path. The Eastern Mississauga Rattlesnake is protected  under Species at Risk Act with fines from $25,000 to $100,000 and imprisonment if you kill one.
The Bruce Trail follows the shoreline crossing over both Parkland properties and Private lands.  Respect the right of access that has been given for your enjoyment.  The National Park also has a series of walking trails, please respect this space.
Your Trash!:
Pack in, Pack Out is the golden rule.  Leave only your footprints. Take away memories, photos, and a sense of wonderment at the creative passion displayed by Nature just for you.
Environmental Enforcement Act, (Canada – Environmental Protection Act 1999) – Type C Violations represent serious compliance issues and by their nature, would always result in harm to the environment.  Under the Wildlife Area Regulations, no person shall dump, deposit any rubbish, waste material or substance that would degrade or alter the quality of the environment in any wildlife area.
FINE: $1,000.00 to $5,000.00 per person
FINE:  $25,000.00 repeated offence (person, ship or vessel)
Local Examples but not limited too – tossing of **used diapers into rock cracks, beer bottles & other beverage containers, food containers & wrappers left behind… Travelling to Flowerpot Island – the above  items plus the 'tossing to the wind' of plastic rain jackets.  Municipalities throughout Ontario now have Littering laws in place starting at $1,000.00.
KEEP IT CLEAN – KEEP IT GREEN
"Even if 'nature is at our disposition', all too often we do not 'respect it or consider it a gracious gift which we must care for and set at the service of our brothers and sisters, including future generations'". "God always forgives, we sometimes forgive, but when nature – creation – is mistreated, she never forgives!" – Pope Francis – January 2014
---
REFUNDS
Without prior agreement no refunds will be issued for onsite cancellations.  When any of the above Rules are broken resulting in fines and or eviction, refunds are not given.
---
VIOLATION
If you do not wish to respect our property and follow the Rules, management has the right to evict you.  You will be fined and police will be asked to escort you from the property if required.
The Law: the Provincial Trespass to Property Act R.S.O. 1990, Chapter T.21 allows all park personnel the right to refuse service and/or expel anyone for the violation of any park rules with no refund.
For more information 'Comment from the Owner'